Telling stories: How It All Began
Posted January 21, 2017
In the fall of 2013, I became obsessed with voodoo dolls. I saw them everywhere: on tv, in movies, toys, cartoons. I wanted
to do something with them. I started sketching some ideas.
And, so my WooWoo Dolls were born. (There's more to that story...but, another time. This is the story of Misery and Mal...) I enjoyed them - still do ;-) But, I wanted to do something else. My roots as an artist are in pencil and charcoal. I LOVE to sketch. This time,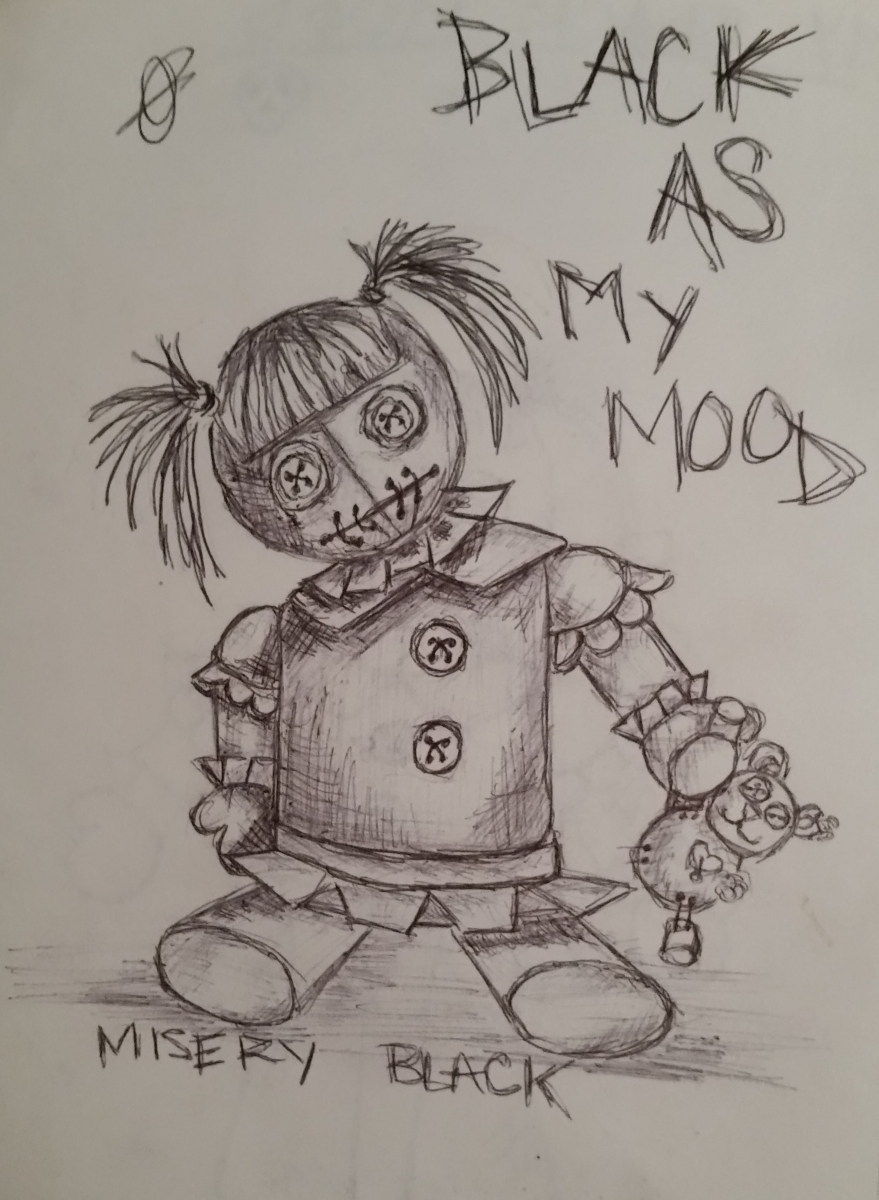 though, I tried ink. That's a commitment, you know. You can't erase ink. But, I envisioned something emo, gothic. And ink just made sense. Misery's first tag line was "Black As My Mood". I'd always wanted to incorporate text into my work. I should have realized that Misery was going to be a reflection of my feelings.
My concept was that there was a little girl that was left alone in an instituion. She had no belongings of her own. But, she had an imagination. And lots of feelings that she couldn't express. She found bits of paper, some scraps of wood, a pen and a few nails. And so Misery was born. My little orphan girl had found her voice...so did I.
"Sad" w
as the first Misery that I did. There was something about the idea of a slightly creepy, little rag doll girl that was sad because a little stuffed bear was broken. I don't know, I guess it's the poetic irony. Because I do a lot of things in sets of four, along came "Happy", "Fear" and "Brave".
Misery was coming to life. There was something special about this little girl. I loved drawing her like nothing else that I have done. Maybe it's the fact that she is a living journal for me. I don't know, but I do know that it all started with expressing emotions. Of course, this has always been a major goal of mine in regards to my work, This was just a bit more blatent. Lol! So Misery was gaining momentum, I loved drawing her and I loved using text in my work. But how did she become a book? Check out my next blog post and find out ;-)
Please contact me at laughinggoddessdesigns.com (or fill out contact form) if you are interested in more info about me and my work. Also, please like my facebook, Laughing Goddess Designs and follow me on Instagram @artAAaddict.
» Share: