Telling stories: Misery evolves
Posted January 28, 2017
When I first started drawing Misery, I mounted the original paper drawings with nails to wooden plaques
that I dry brushed black. The overall effect was dirty, imperfect, handmade - exactly as I hoped. This was a truly rare phenomenon! Nothing ever comes out they way it looks in my head. But, right from the get go, Misery was different.
I didn't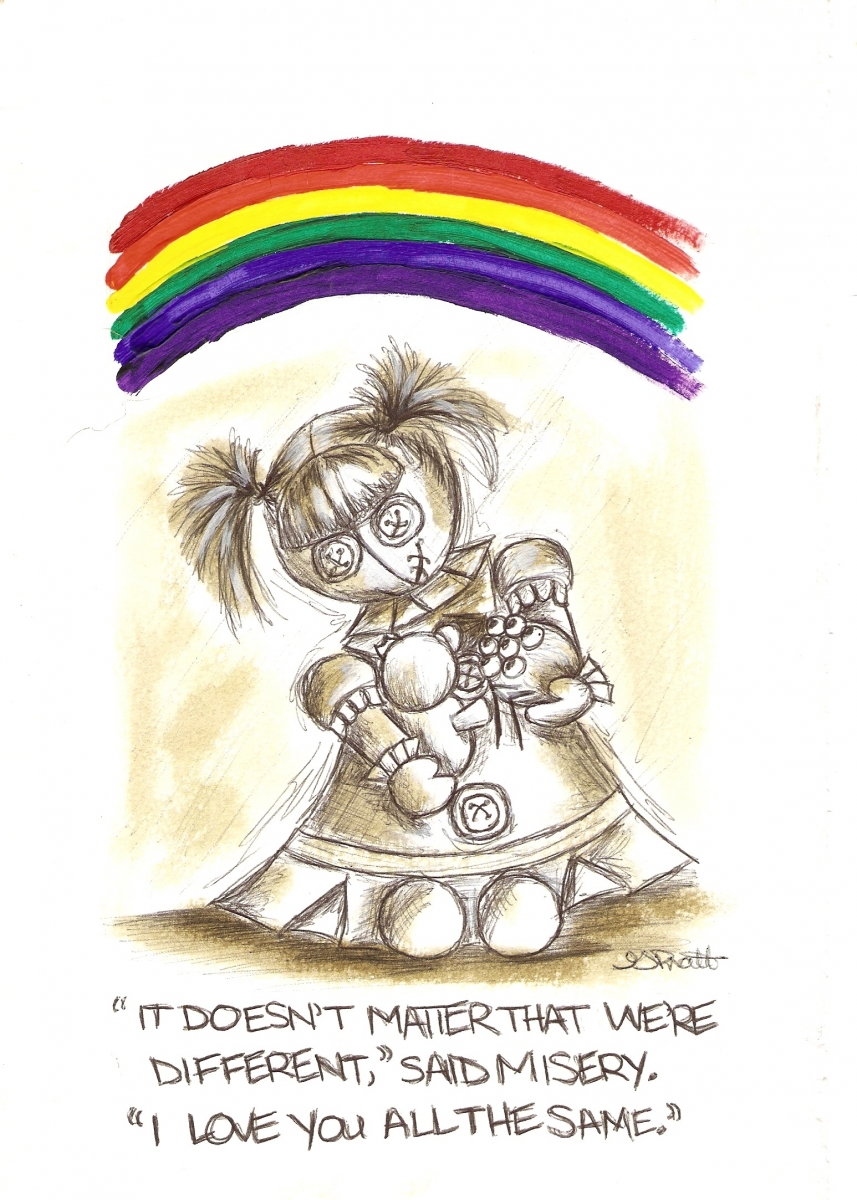 really have a plan for Misery, but I knew I wanted to show her expressing different emotions. So, Anger, Forgive, Bad Surprise and Happy Surprise came to be. I started working on a couple other emotions when the shooting at Pulse nightclub, here in Orlando, happened. I used to hang out there. I used to live near the club. Even now, I only live a few miles away. I was devestated. The very next day, at localARTicles boutique in Universal Studios Islands
of Adventure, I created my Pulse piece. It was the best way that I knew to express how I was feeling.
After the "Orlando Strong" piece, I realized that I wanted more text in my work. I wanted to tell Misery's story. And, in doing so, tell a little moral fable - always with a happy ending. To me, Misery is the ultimate misfit - totally innocent while still looking a little creepy. Because, let's face it, dolls ARE creepy. So, I had my first story. An origin story for Misery and Little Bear. It still took a little while for the book idea to come. I had 2 story ideas, but that was about it. And I was really just doing it for me. I just love the sketchy, sepia tone of it. I love creating her. It didn't occur to me that it could be a book...not yet, at least...
Please contact me at laughinggoddessdesigns.com (or fill out contact form) if you are interested in more info about me and my work. Also, please like my facebook, Laughing Goddess Designs and follow me on Instagram @artAAaddict.
» Share: